About the KX-6 Single Shot Trap
The Krieghoff KX-6 – a single barrel trap gun designed solely for competition. Available with 34″ barrels fitted with factory steel choke tubes, the KX-6 has an adjustable rib which allows the point-of-impact to be raised or lowered, a hallmark of Krieghoff trap guns. The rib sits above the free-floating barrel which expands lengthwise as it gets hot, no matter how many rounds you shoot. The point of impact remains where you set it and remains unaffected by the heat expansion.
Delivered from the factory with a 80/20 POI, the KX-6 can be adjusted to shoot from 50/50 to almost a full pattern high.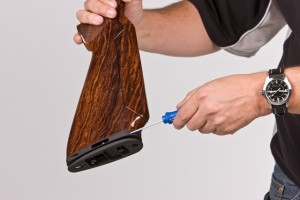 The KX-6 features the Krieghoff adjustable butt plate. Allowing for the adjustment of cast, drop and pitch, for a personalized fit. All of this can easily be done with just one tool, the adjustable comb wrench. To see all of the adjustments possible please click here, or on the image to the left.
The KX-6 Length of Pull can be easily adjusted to your personal specifications with the addition of optional pre-fitted 1/4″ (6.4mm) spacers (Available Soon). Combined with the adjustable butt plate, obtaining the perfect gun fit has never been easier.
Years of experience and intensive research of recoil forces result in the KX-6′s ergonomic stock design which reduces perceived recoil to a bare minimum. Acknowledging the individualism of our shooters, we now offer true offset right and left-handed stocks for the KX-6.
The KX-6 cocks effortlessly on opening allowing the shooter to maintain concentration on the line. The new ergonomic design makes opening the gun for loading easier and reduces recoil. The KX-6 trigger is adjustable for grip length, pull and creep. Trigger pull is factory set at approximately 3 1/2lbs and can be adjusted from 3 1/4 lb to 3 3/4 lbs. Optional release trigger is available as an upgrade option.
The KX-6 action features a long-lasting black carbonitrided finish for optimal durability and elegant appearance.

Specifications and Options:
Gauge:
12 gauge, 3″ chamber
Barrels:
34″ single barrel with factory steel choke tubes (CT).
Rib:
12-8mm (7/16″ to 5/16″) fully adjustable tapered rib.
Chokes:
Three (3) factory steel CTs standard with the gun: IM,LIM,F
Additional choke tubes available: CY, SK, IC, M, SF
Sights:
White pearl front sight and metal center bead.
Action:
Case hardened, long lasting black nitro carbonized finish for optimal durabilityFeatures the KX-6 logo
Trigger:
Position adjustable for finger length.
Adjustable for travel and weight of pull, range 3-1/4 – 3-3/4 lbs.
Preset by factory at approximately 3-1/2 lbs.
Optional Release Trigger available.
Safety:
Top tang push button safety. Can be locked in off position.
Stock and Forearm:
Ergonomic stock design, available in right or left hand, paired with attractively figurd European walnut wood.
Monte Carlo buttstock with fully adjustable comb (drop & cast)
Length of Pull 14-3/8″, adjustable with the addition of optional pre-fitted spacers. Comb adjustment range: 1-1/4″ – 1-5/8″ drop.
Optional, fully adjustable Krieghoff Butt Plate
Weight:
Approximately 8-3/4 lbs.
Case:
Each KX-6 comes in a light weight fitted case.